Mountain service - Špindlerův Mlýn - Giant Mountains
"Heroes in Red Jackets", as they are also called - they protect you when you are on a mountain hike or on ski slopes. Even if you don't notice it, Mountain Service takes care of your safety in the mountains. Mountain services are both professionals and volunteers. They are really heroes. So if you imagine their determination to save lives, tourists who got lost in a winter storm or fog and rescue operations in dangerous terrain have got this title right.

In addition to first aid, the mountain service regularly monitors the risk of avalanches and the weather and issues corresponding warnings. He is also active in preventive and educational activities. Your job is also to look after the winter brand, which is damaged by the onslaught of the weather or the lack of discipline among the visitors to the mountains.
The mountain service employees use snowmobiles, skis, sleigh rides, rescue dogs, climbing equipment, etc. to travel.

Good to know:
The mountain service uses a single telephone number +420 1210 that is available non-stop
Save this number on your mobile phone before embarking on a mountain hike
Keep in mind that the weather in the mountains is very different and can change within an hour
Before you go hiking, inform your friends or the hotel reception about your route
Charge your mobile phone before the hike
Don't overestimate your strength and plan your trip
If you are unsure of the difficulty of the route, contact the local information center or ask us
Make sure you have suitable, waterproof clothing and wear suitable footwear
Don't underestimate Krkonoše - you are in the mountains
Protect nature and follow the visiting rules of Krkonoše National Park


Address:
Dům Horské Služby
Svatopetrská 260,
543 51 Špindlerův Mlýn

Mountain service - phone:
+420 1210 - non-stop

+420 606 157 923
+420 499 433 230

Email: hskrkonose@horskasluzba.cz

GPS: 50.7246750N, 15.6096431E

Where do you find us? You can find us HERE via this link.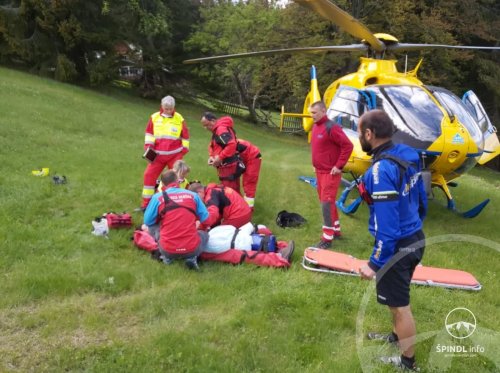 OUR TIPS
in Špindlerův Mlýn
We have interesting tips for you from Špindlerův Mlýn and its surroundings. Whether it is accommodation, activity or a good restaurant. We live in Špindl, it is our home, so we recommend what we have tried ourselves and we like.
We wish you to enjoy your stay in Spindleruv Mlyn according to your ideas.
Show more