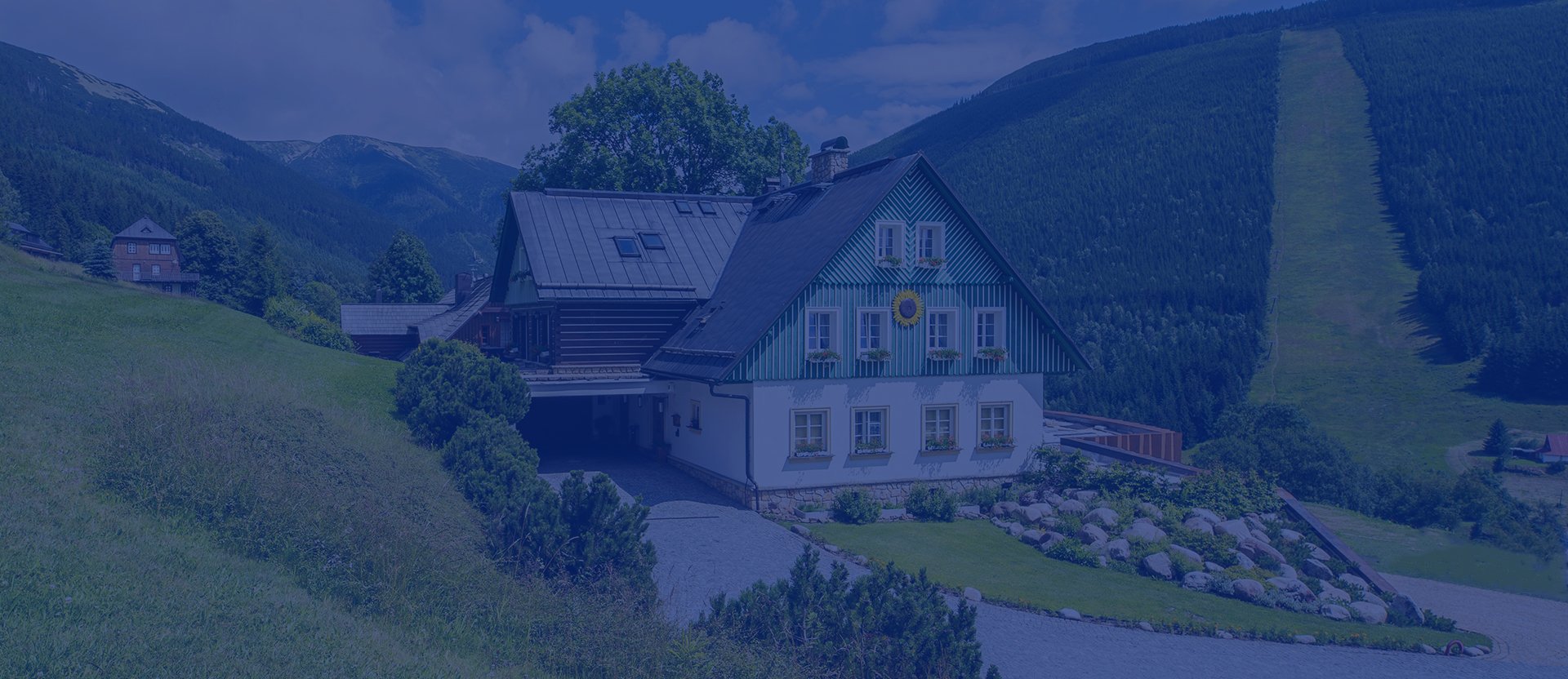 Pension Slunečnice
Špindlerův Mlýn - Svatý Petr - Krkonoše
One of the best accommodations in Špindlerův Mlýn - in Svatý Petr. Unique atmosphere and view. Nice restaurant and wellness.
Why does ŠPINDL.info recommend?
What can delight and interest you
One of the best accommodation in Špindlerův Mlýn - in St. Peter.
Unique atmosphere and unique views. Beautiful modern wellness.
Award-winning restaurant - specialties of old Czech and Krkonoše cuisine.
Equipment for your comfort
Everything you will find with us
accepted credit card
Restaurant
Bar
Gluten-free diet
Café
Vegetarian Cuisine
Diet menu
Quality coffee
Lunch menu
More
We recommend
in Špindlerův Mlýn
Restaurace Farma
St. Peter
Welcome to the Farma restaurant - Pension Slunečnice - Špindlerův Mlýn - Svatý Petr

The Farma Restaurant is a modern panoramic restaurant with a wonderful view of Svatý Petr. You can find it on the picturesque Svatý Petr Valley in Špindlerův Mlýn.
The Farma restaurant specializes in modern and Krkonoše specialties with a modern twist. Fresh and regional delicacies mixed with the unforgettable atmosphere of Svatý Petr valley offers a wonderful experience.

The modern Czech cuisine in a great restaurant is prepared by a team of the best chefs. Try slowly roasted meat, honest sauces, homemade ice cream made from non-traditional ingredients or attractive desserts.
The experience in our restaurant with a view of the Svatý Petr valley is complemented by a comprehensive selection of wines from Moravia, Italy, Germany and France by world-famous winegrowers and exclusive small series productions.

We cook without gluten.
In our restaurant you can order meals that are prepared according to the strict dietary requirements of a gluten-free diet. Please order in advance.

For your motivation, we would like to enclose a menu of the Farma restaurant - Špindlerův Mlýn - HERE

We have prepared up to 75 seats in our restaurant and another 60 on the summer terrace.
The restaurant is open daily to both hotel guests and the general public.

Free WiFi is available in the restaurant.

Due to the popularity of the Farma restaurant, we strongly recommend that you reserve a table by phone: 420 777 770 545.
It is open every day from 12:00 to 23:00


Tomáš Slanina & staff Restaurant Farma look forward to your visit - Svatý Petr - Špindlerův Mlýn
Show more
Zobrazit restaurace
Localization
See where you can find us
OUR TIPS
in Špindlerův Mlýn
We have interesting tips for you from Špindlerův Mlýn and its surroundings. Whether it is accommodation, activity or a good restaurant. We live in Špindl, it is our home, so we recommend what we have tried ourselves and we like.
We wish you to enjoy your stay in Spindleruv Mlyn according to your ideas.
Show more