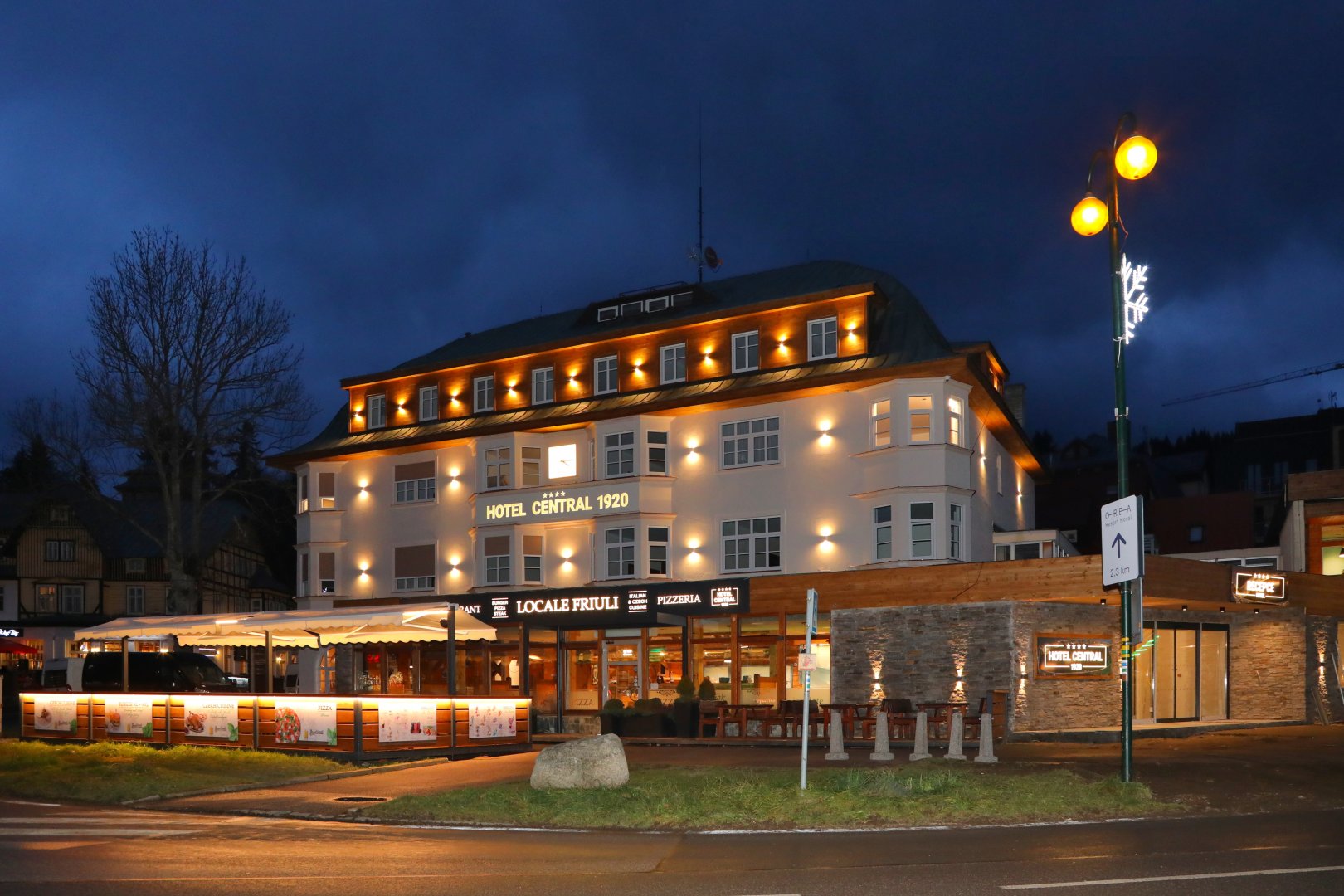 Hotel Central 1920
Špindlerův Mlýn - Centrum - Krkonoše
You stay in a beautiful hotel in the center of Špindlerův mlýn. Superior approach. Excellent restaurant in the hotel. WE RECOMMEND!
Why does ŠPINDL.info recommend?
What can delight and interest you
Beautiful hotel right in the center of Špindlerův Mlýn
Excellent three restaurants right in the hotel
Friendly and professional approach from the staff
WE RECOMMEND!
Equipment for your comfort
Everything you will find with us
accepted credit card
Restaurant
Bar
Gluten-free diet
Café
Vegetarian Cuisine
Diet menu
Quality coffee
Lunch menu
More
We recommend
in Špindlerův Mlýn
Restaurace Locale Friuli
Center
Welcome to the LOCALE FRIULI - Špindlerův Mlýn restaurant

When you visit Špindlerův Mlýn, don't forget to visit the very popular and frequently visited restaurant complex Locale Friuli - Špindlerův Mlýn.
The Locale Friuli restaurant is located in the heart of Špindlerův Mlýn - on Špindlerův square in the newly tastefully renovated Hotel Central. The stylish Locale Friuli restaurant offers you a higher gastronomic experience in an environment where you can feel calm and natural.
You can visit three stylish restaurants. You will be pleasantly surprised by the pleasant and professional service, the excellent gastronomy of the northern Italian cuisine as well as the Czech and international cuisine.

The basis of a refined selection of dishes is Italian cuisine, including a large selection of pizzas, which are complemented by world specialties.

The menu features real Italian pizza, which the chefs conjure up in front of you in the oven. Lovers of authentic Czech cuisine and guests who prefer a large steak will enjoy it. You can also enjoy a multilevel hamburger or fried chicken wing. Locale Friuli also remembers vegetarians and lovers of large salads.
Take a look at the menu of the Locale Friuli - Špindlerův Mlýn restaurant to motivate and pamper your taste buds:

Locale Friuli Menu - Available HERE
Beverage menu - available HERE

To illustrate comfort, we recommend sitting on the large sun terrace.
In the winter season, you cannot miss this apress ski bar.
Note:
The parties here last until late at night.
It is also worth visiting the regular evening program and the unique live music performances. The current program of concerts and shows is always presented in the Friuli restaurant.

The Locale Friuli Špindlerův Mlýn restaurant is run by real professionals who, in addition to their many years of experience in the catering trade, also put their heart and soul into the business.

We are looking forward to your visit!

Tomáš Tyle and the entire Locale Friuli team wish you a pleasant culinary experience - Špindlerův Mlýn
Good Appetite
Show more
Zobrazit restaurace
Localization
See where you can find us
OUR TIPS
in Špindlerův Mlýn
We have interesting tips for you from Špindlerův Mlýn and its surroundings. Whether it is accommodation, activity or a good restaurant. We live in Špindl, it is our home, so we recommend what we have tried ourselves and we like.
We wish you to enjoy your stay in Spindleruv Mlyn according to your ideas.
Show more