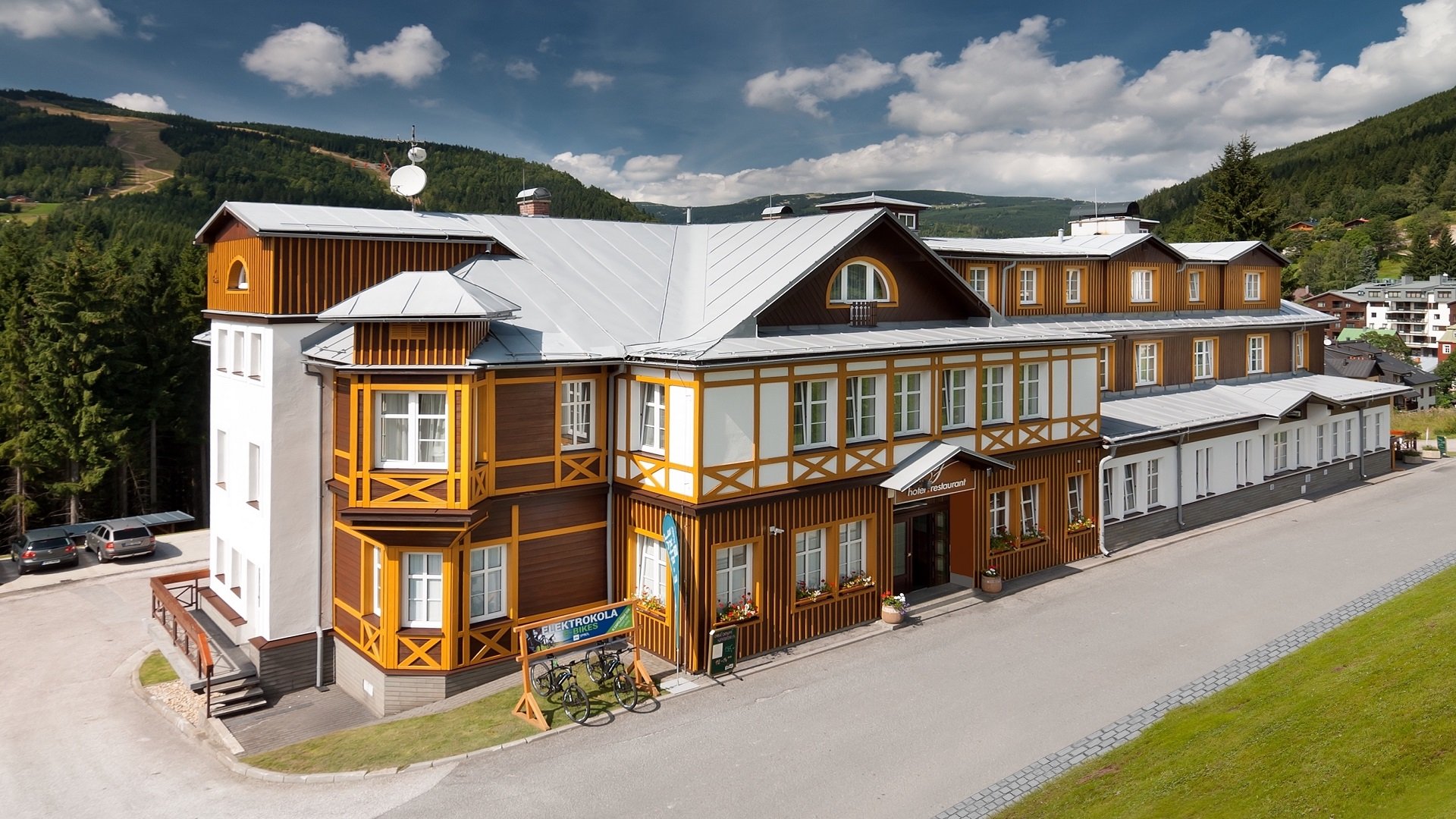 Hotel Sněžka
Špindlerův Mlýn - Centrum - Krkonoše
Beautiful family hotel is one of the most popular hotels in Spindl. Well-known restaurant and Spa & Relax center.
Why does ŠPINDL.info recommend?
What can delight and interest you
One of the most popular accommodation in Spindleruv Mlyn.
Beautiful stylish family hotel with a long tradition and professional management.
The hotel offers 31 luxuriously equipped rooms, a spa center, a lobby bar and a restaurant.
Equipment for your comfort
Everything you will find with us
accepted credit card
Restaurant
Bar
Gluten-free diet
Café
Vegetarian Cuisine
Diet menu
Quality coffee
Lunch menu
More
We recommend
in Špindlerův Mlýn
Restaurant Genius
Center
Restaurant Genius Sněžka - Špindlerův Mlýn - Giant Mountains
The GENIUS SNEŽKA restaurant is located in the Hotel Sněžka and has a very beautiful summer garden with a view of the Medvědín ski slopes.
We decided to focus on a healthy lifestyle and in collaboration with the cook and visionary from Bali, Cynthia Louise, put together a brand new menu.

We are here with you to make time more pleasant for you, and therefore hope that you enjoy your stay with us and feel comfortable with us. If you feel that we are more than just a restaurant, you are right. We have been building up our family tradition since 2000 when we renovated the Hotel Esplanade and opened a brand new Hotel Sněžka in Špindlerův Mlýn.

Our vision is a mountain restaurant with a large selection of dishes from traditional to foreign cuisine, in which meals are prepared daily using the best local ingredients. The panoramic view of the Giant Mountains, especially the Medvědín ski slopes, is breathtaking.

Let yourself be pampered and enjoy lovingly prepared dishes, complemented by a careful selection of the best wines. Choose from a range of traditional and special recipes with a touch of international flavor. We take care of every taste - at breakfast, lunch and dinner or with an aperitif. However, if you just came to us for relaxation, we are here to turn your visit into a magical moment that you should remember.

Awesome food

A symphony of wonderful organic food that not only floods your body with nutrients, but also stimulates your ingenious self, stimulates productivity and creativity. Our freshly cooked and raw food is a culture in itself. It is a dish that has been carefully created and designed by our visionary cook Cynthia Louise. In combination with organic food, you will also find some traditional mountain dishes like Svíčková or Krkonošské kyselo on our menu.

And one last thing - our name.

"We are the restaurant" Genius Sněžka "because we believe that each of us can find our own genius with the right natural ingredients. If we allow the earth to help us be the best, we have done everything to give it back to Earth. ""

Breakfast in the restaurant is served in the form of a hot and cold buffet, dinner in the form of a selection from the menu or in the form of buffets.

The bar in the hotel lobby will not only fascinate you with its cosiness, but also with the professional approach of our bartenders. In addition, you have a Wi-Fi internet connection and a large screen for maximum satisfaction. At the bar, our trained staff prepare exclusive coffee in Piazza d'oro.

Have fun and have fun!

The team of the Genius Sněžka restaurant

"Restaurant Genius" is the first restaurant in Špindlerův Mlýn, which, in addition to traditional Czech cuisine, also offers a unique menu of vegetarian, vegan and raw cuisine, which is prepared exclusively from fresh ingredients.

Opening times - Restaurant Genius - Sněžka:
We are open for you every day from 12:00 to 22:00
Breakfast is served daily from 7.30 a.m. to 10 a.m.
Please reserve your place by phone at 420 777 560 155 or by email at hotel.snezka@felicity.cz.

Genius Sněžka is looking forward to your visit
Show more
Zobrazit restaurace
Localization
See where you can find us
OUR TIPS
in Špindlerův Mlýn
We have interesting tips for you from Špindlerův Mlýn and its surroundings. Whether it is accommodation, activity or a good restaurant. We live in Špindl, it is our home, so we recommend what we have tried ourselves and we like.
We wish you to enjoy your stay in Spindleruv Mlyn according to your ideas.
Show more