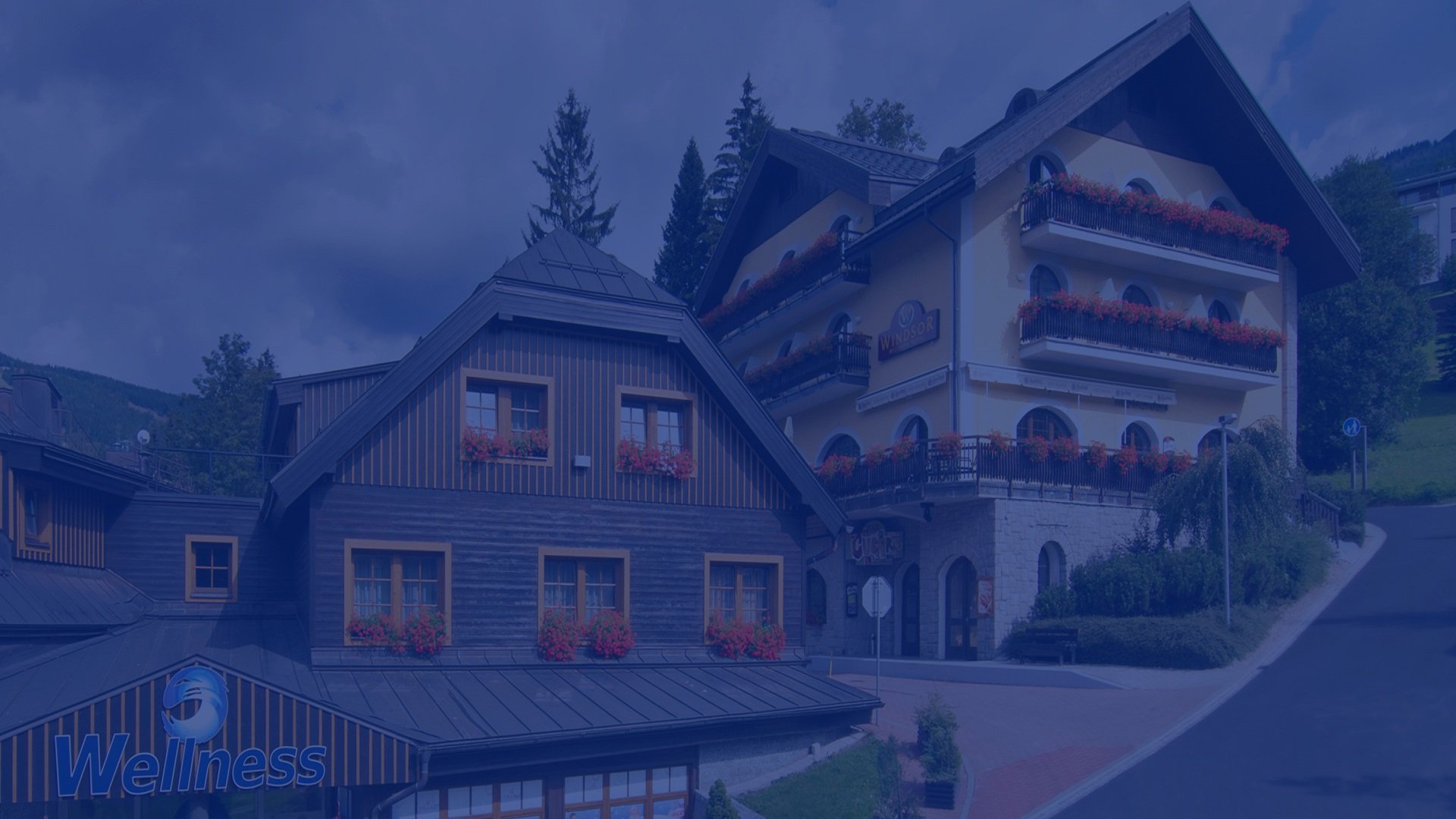 Wellness hotel Windsor
Špindlerův Mlýn - Centrum - Krkonoše
Popular TOP hotel in Spindl. Beautiful atmosphere, great restaurant, pleasant wellness. An ideal place for a family vacation.
Why does ŠPINDL.info recommend?
What can delight and interest you
Unique atmosphere and long tradition since 1894.
It has been one of the most popular hotels in the Giant Mountains for many years.
Pleasant wellness and renowned original Thai massage - Tawan.
Equipment for your comfort
Everything you will find with us
accepted credit card
Restaurant
Bar
Diet menu
Very good coffee
Ski school
Indoor Swimming-pool
Vyhřívaný vnitřní bazén
Whirpool
More
We recommend
in Špindlerův Mlýn
Wellness & Spa Windsor
Center
Vítejte ve wellness centru Windsor - Špindlerův Mlýn v Krkonoších

Dopřejte si komfort v příjemném wellness hotelu Windsor, kde na Vás čekají tradiční římské lázně, bazén, whirlpool či thajské masáže TAWAN.
Pro hotelové hosty je vstup do wellness na vymezenou dobu zdarma.
Odpočiňte si ve Wellness & Spa Windsor - Špindlerův Mlýn:

v bazénu s protiproudem (7 x 4,5m, 1,5 hloubka, 25-28°C)
bylinné "aroma" kabině (75°C-80°C)
parní sauně (60°C, 90% vlhkost)
klasické suché (finské) sauně (75°C-120°C)
whirlpool až pro 8 osob (32-35°C)
masážních vanách za příplatek 150,- Kč / 1 osoba / 20 minut


Privátní wellness 21:00-22:30
2.200,-Kč / 2 osoby / 1,5 hodiny v privátním wellness se skleničkou prosecca
Rezervujte 24 hodin předem na recepci hotelu 499 405 911


Určitě navštivte jedinečné originální thajské masáže TAWAN

Přijďte za relaxem do Wellness & Spa hotel Windsor - Špindlerův Mlýn v Krkonoších.
Show more
Localization
See where you can find us
OUR TIPS
in Špindlerův Mlýn
We have interesting tips for you from Špindlerův Mlýn and its surroundings. Whether it is accommodation, activity or a good restaurant. We live in Špindl, it is our home, so we recommend what we have tried ourselves and we like.
We wish you to enjoy your stay in Spindleruv Mlyn according to your ideas.
Show more