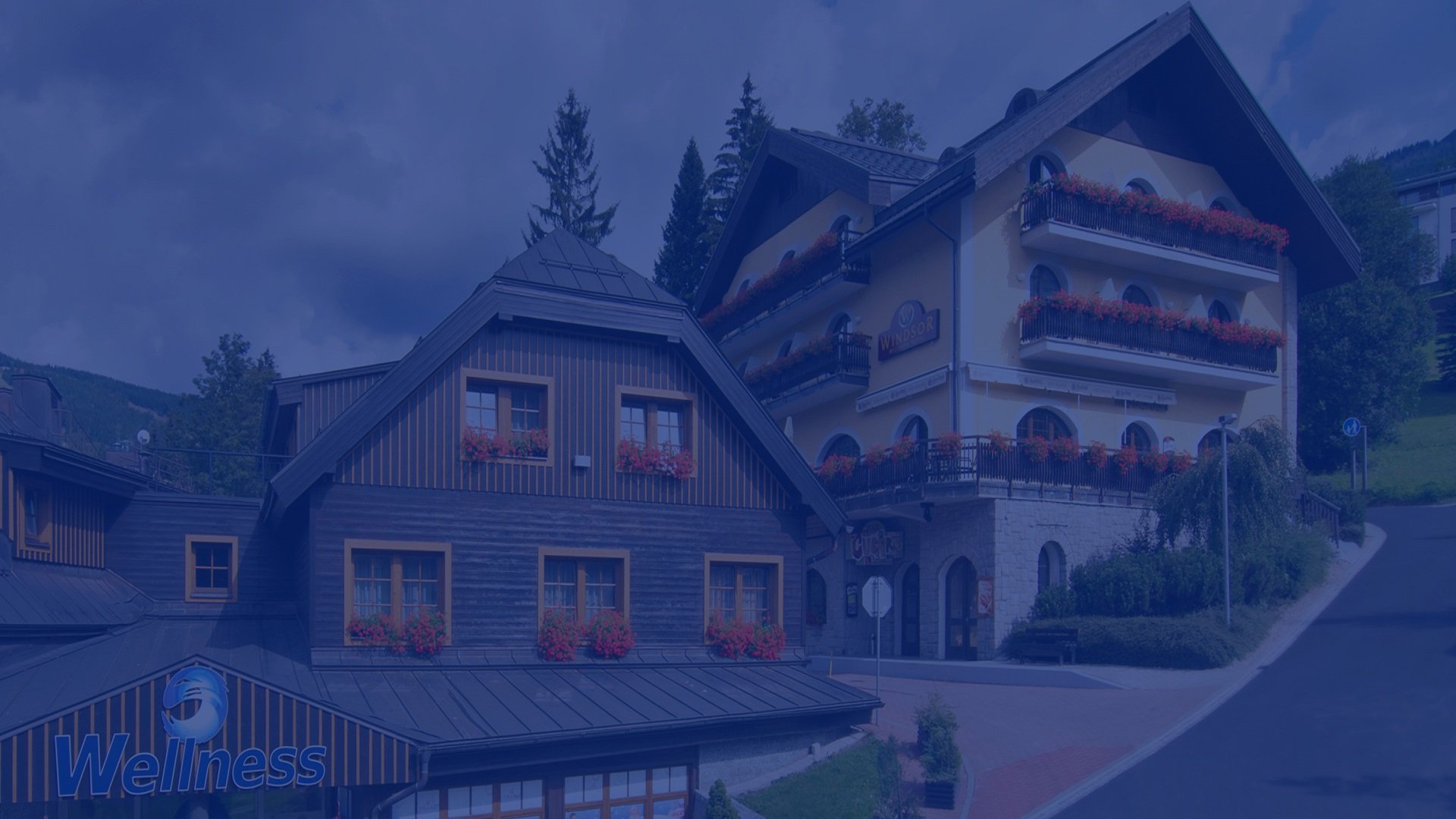 Wellness hotel Windsor
Špindlerův Mlýn - Centrum - Krkonoše
Popular TOP hotel in Spindl. Beautiful atmosphere, great restaurant, pleasant wellness. An ideal place for a family vacation.
Why does ŠPINDL.info recommend?
What can delight and interest you
Unique atmosphere and long tradition since 1894.
It has been one of the most popular hotels in the Giant Mountains for many years.
Pleasant wellness and renowned original Thai massage - Tawan.
Equipment for your comfort
Everything you will find with us
accepted credit card
Restaurant
Bar
Gluten-free diet
Café
Vegetarian Cuisine
Diet menu
Quality coffee
Lunch menu
More
We recommend
in Špindlerův Mlýn
Wellness & Spa Windsor
Center
Welcome to the Windsor - Špindlerův Mlýn wellness center in the Giant Mountains

Treat yourself to comfort in the pleasant Wellness Hotel Windsor, where a traditional Roman bath, a swimming pool, a whirlpool or Thai TAWAN massages await you.
For hotel guests, access to the wellness area is free for a limited time.

Relax in the Wellness & Spa Windsor - Špindlerův Mlýn:
in the pool with countercurrent (7 x 4.5 m, 1.5 depth, 25-28 ° C)
Herbal "Aroma" cabin (75 ° C-80 ° C)
Steam sauna (60 ° C, 90% humidity)
classic dry (Finnish) sauna (75 ° C-120 ° C)
Whirlpool for up to 8 people (32-35 ° C)
Massage baths for an additional fee of CZK 150 / person / 20 minutes
Private wellness 21: 00-22: 30
2,200 CZK / 2 people / 1.5 hours in a private wellness area with a glass of Prosecco
Book 24 hours in advance at the hotel reception 499 405 911

Be sure to visit the unique original Thai TAWAN massages
Relax in the Wellness & Spa Hotel Windsor - Špindlerův Mlýn in the Giant Mountains.
Show more
Localization
See where you can find us
OUR TIPS
in Špindlerův Mlýn
We have interesting tips for you from Špindlerův Mlýn and its surroundings. Whether it is accommodation, activity or a good restaurant. We live in Špindl, it is our home, so we recommend what we have tried ourselves and we like.
We wish you to enjoy your stay in Spindleruv Mlyn according to your ideas.
Show more